Fuzor now enables the user to borrow a temporary Network License Key. This is especially helpful when you have a Network License Key but you temporarily want to use a key for a laptop or other computer.

Note: Users cannot borrow more time than is allowed with monthly subscriptions.

Step 1: Start Fuzor installation process. When prompted for product key, choose Network License and enter the address of your Network License Server. Enter a ":" and the port number. The default port number is 45180.



Step 2: Complete installation process.

Step 3: Launch Fuzor

Step 4: In the Collaboration tab, click "Borrow Network License.



Step 5: Enter the amount of time you would like to borrow a license key. Click "Borrow License" button.
Note: Time must be inputted in hours.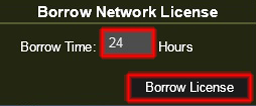 Step 6: This confirmation window will pop up. Click "Yes" button.



Step 7: UI will update with the amount of time you have left with that borrowed license key.



Step 8: The UI below shows when time for license key has expired.



Step 9: Pop up window will warn user that the license has expired.



Step 10: Fuzor gives the users a choice to save project before exiting. Press "Yes" to save, otherwise click "No".



Note: If users have set up license server earlier than March 2nd, 2015 users must download and set up a new one to use network borrowing.


This message was edited 4 times. Last update was at 23/10/2017 17:39:21